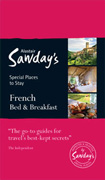 Sawday's - French Bed & Breakfast
Extract :
Flower-themed bedrooms, warm owners, serene bedrooms, gardening books and aperitifs by the wood-burner
In a small Alsatian village is an 18th century house surrounded by an exquisite garden. Gravel paths wander past bird-filled trees and charming benches, clipped shrubs and secret corners. Pierrette and Jean-Luc, warm, friendly and fluent in several languages, have set aside a barn with four first-floor bedrooms - immaculate, spacious and overlooking the garden....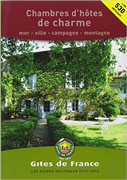 Gites de France
Extract :
"C'est dans l'ancienne grange de ce grand corps de ferme qu'ont été aménagées quatre ravissantes chambres de charme à l'atmosphère champêtre, et ce n'est pas un hasard si elles sont dédiées aux fleurs car la maitresse de maison est une passionnée des jardins ..."

Ambiance-Jardin est classé 4 Epis par les Gites de France.